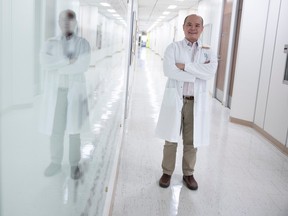 Article content
With fast fashion — inexpensive, mass-produced clothing — on the rise in Canada, a University of Regina researcher has received federal funding to help prevent garments from ending up in landfills.
According to a release from the U of R, Canadians throw out more than one million tonnes of clothing and textiles every year — putting a strain on the country's waste management system.
Article content
Waste management researcher and engineer Dr. Kelvin Tsun Wai Ng received a $500,000 Discovery Grant from the Natural Sciences and Engineering Research Council (NSERC) to create a viable engineering and business management framework to collect, process, and recycle clothing and textiles.
"If I think about my parent's generation, they used to keep their clothing for 10 or 15 years," Ng said.
"But if you talk about my generation or my students' generation, university students at the beginning of every single semester they will buy something online."
Ng said with the affordability of fast fashion it becomes a habit to buy more clothing, however these garments are designed for their appearance rather than their longevity.
"For a single piece of garment you have plastic, synthetic materials, metals, you have so many different things within one item," Ng said.
"Currently, we do not have a good estimate on the amount of material that we send to the landfill, so we want to measure accurately the quantity and the composition of the materials."
Ng said he's collaborating with researchers from the University of Alberta, Toronto Metropolitan University and Seneca College. They will develop an interactive Canadian thrift-store database and create a machine-learning model on clothing and textile recycling behaviours.
Article content
"Together we will try to look at each individual province first, and hopefully we will be able to integrate all of them together," he added.
Their ultimate goal is to create a framework that will include recommendations and guidelines for policymakers to improve environmental sustainability.
"Nowadays in waste management we try to use data analysis to support our decisions," Ng said.
"We will try different types of scenarios, and the model will help us to predict what happens in five years and 10 years down the road, and because of that we'll be able to see a better picture and be able to make recommendations to the policymakers and to the business partners to better manage our waste problem."
The project involves collaborators in engineering, textiles, human ecology, social and behavioural sciences, and business.
"Socio-economic barriers also need to be addressed, including the social stigma of second-hand clothing, the low value that's placed on the esthetic appeal of used clothes, as well as how they're perceived simply because they often cost a lot less than new clothing."
Article content
Dr. Chris Yost, U of R Vice-President (Research) said the university's researchers are making impactful contributions to the United Nations Sustainable Development Goals.
"For example, Dr. Ng, in developing a better model for sustainable clothing and fabric, is directly responding to United Nations Sustainable Development Goal 12 — Responsible Consumption and Production," Yost said.
"Our scholars are committed to conducting research that supports our collective health, well-being, and environment. Through their work, they are helping to ensure a more sustainable and healthy society."