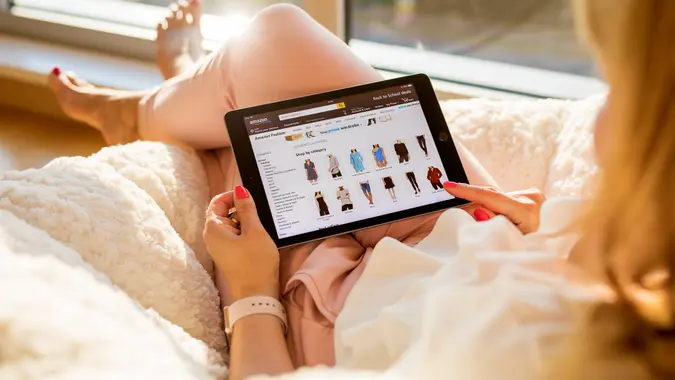 Kaspars Grinvalds / Shutterstock.com
Walmart once dominated the retail space as the top destination for Americans to buy apparel, but things took a turn in 2021 thanks in large part to the pandemic, according to Wells Fargo research.
Shoppers relied on Amazon for their essential and nonessential items, making the online retailer the No. 1 apparel shopping destination for the first time that year — and shoppers continue to flock to Amazon to buy their clothes, shoes and more.
Here's a look at why Americans love shopping for clothes on Amazon.
User-Friendly Experience
Whether you're shopping on your desktop or via the Amazon app, the retailer makes the buying process seamless.
"Amazon excels in creating a user-friendly experience for shoppers," said Oleg Segal, CEO of the coupon code website DealA. "Their interface is easy to navigate, allowing users to find what they need quickly. Additionally, the platform offers personalized shopping experiences through features like filters, reviews and style recommendations, enhancing the overall user experience."
Convenience
Segal said that shoppers also appreciate Amazon's commitment to convenience.
"Their fast shipping options and hassle-free return policies resonate with modern consumers who prioritize convenience," he said. "The ability to read and leave reviews also adds value to the shopping process, as customers can make more informed decisions."
Range of Quality and Prices
Amazon offers an assortment of brands at different price points, which means they can capture a wide range of consumers.
"Amazon's diverse assortment of brands appeals to many customers," Segal said. "Whether someone is looking for high-end designer pieces or budget-friendly options, Amazon has something to offer. This variety caters to different customer preferences, ensuring every shopper can find something unique and suited to their needs."
This isn't necessarily the case at Walmart.
"In contrast, Walmart's clothing section may lack the same level of personalization and convenience," Segal said. "It may appear more generic, which doesn't satisfy the evolving preferences of modern shoppers."
Lower Prices
For those shoppers who are looking for a bargain, Amazon often does offer clothing items at a lower price point.
"Amazon is often able to offer lower prices on clothes than Walmart due to its efficient supply chain and large volume of sales," said Andrew Lokenauth, money expert and founder of TheFinanceNewsletter.com. "This can save shoppers money on their clothing purchases."
Premium Customer Service
Shoppers are fans of the customer service Amazon provides, which keeps them coming back to the retailer.
"Amazon has a reputation for excellent customer service," said Ismail Markevich, writer at the fashion blog JaneMarvel.com. "If you have any problems with your order, you can easily contact Amazon customer service and they will be happy to help you."
More From GOBankingRates