There's a sneaker designed for almost every type of workout. Running sneakers, walking sneakers and training sneakers, for example, are each made to support you during that specific activity. But a different shoe for every workout can add up in cost and closet space. 
I've been a runner for over a decade, and my collection of running sneakers has its own shoe rack. When I started incorporating weight lifting, HIIT and sculpt classes into my fitness routine, I thought they would also work for other types of workouts, but I was wrong.
I typically look for cushioned, bouncy, lightweight running sneakers that have a curved outsole to help me continuously propel forward. But I need the opposite in a training shoe — heavier, less cushioned trainers with a flat outsole to help maintain my balance and stability while using dumbbells or kettlebells. My workout shoe conundrum and positive experience with Lululemon's Blissfeel running sneaker — a Select Wellness Award Winner — lead me to the brand's Chargefeel shoe. It's made for runners (or walkers) who also do other types of training and want one sneaker to cover it all.
To decide if the Lululemon Chargefeel really is the Goldilocks of workout shoes — meaning its features make it just right for running and training — I tried a pair for six weeks. I now wear them almost daily, and beyond exercising, I throw them on to do errands since they keep my feet comfy while walking around New York City. Below, I'm sharing my experience with the Lululemon Chargefeel sneaker and what you should know before buying it.
SKIP AHEAD What to know about Lululemon's Chargefeel sneaker | How I tried it | Pros and cons | Lululemon's return policy
What to know about Lululemon's Chargefeel sneakers
The Chargefeel is a cross between a running sneaker and a trainer, and it's the second iteration of this Lululemon shoe. The original Chargefeel launched in July 2022 and is specifically made for women's feet. Lululemon spent four years designing the sneaker, which involved analyzing a million women's foot scans to better understand factors like typical shape and weight distribution, according to the brand.
Like the original model, the Chargefeel 2 is available in two styles: Low, which hits under the ankle, and Mid, which hits above the ankle. Below, I'm breaking down details about each model, including their weight, color options and heel drop (the difference in cushioning between the heel and toe of the shoe).
Lululemon sent me the Chargefeel 2 Low sneaker to try, which was recently updated with additional heel support to brace the foot while running and new foam cushioning for better bounce, according to the brand. The shoe's dual-density foam cushioning gives just enough bounce to propel me forward while running or help me spring off the ground while jumping and dancing. The cushioning also keeps my feet comfortable for longer periods of training, running or walking.
Beyond providing traction on indoor and outdoor surfaces, the sneaker's outsole has pressure zones that ensure my weight is evenly distributed while moving through different exercises. For example, pressure zones toward the front of the shoe evenly distribute my weight around the ball of my foot and toes if I lift my heels to do calf raises. Then, when I put my heels back on the ground, pressure zones across the length of the shoe redistribute my weight so I'm balanced.
The interior of the Chargefeel is lined with soft fabric that prevents skin irritation if my sock slips down. It also has a mesh upper, which allows air to flow through the shoe, and keep my feet cool, especially while running in warm weather (The upper refers to all parts of the shoe above the sole. It covers the sides, top and back of the foot, in addition to the toes).
Weight: 9.1 oz. | Heel drop: 9.5mm | Size range: Women's 5 to 12, including half sizes | Colors: Baked Clay (light pink/orange), white, Vapor (silver) and black
The Chargefeel Mid has almost identical features to the Low style. It has the same cushioning, pressure-mapped outsole, interior liner and mesh upper. But instead of hitting underneath your ankle, there's an additional knit component of the shoe's upper that extends slightly above your ankle to help stabilize it, according to the brand. On the original Chargefeel, the knit upper's collar was cut straight across, but it's now cut to contour to the ankle's shape.
Weight: 9.3 oz. | Heel drop: 9mm | Size range: Women's 5 to 12, including half sizes | Colors: White, Palm Court (green) and black
How I tried the Lululemon Chargefeel sneakers
I've been wearing the Chargefeel sneakers for the past six weeks. Here's how I worked out in them:
Running and walking: In total, I've logged about 62 miles and 40 hours in the Chargefeels. I used them on the treadmill and outdoors. I ran or walked up to five miles at a time while wearing them.
Elliptical machine: I wore the sneakers on the elliptical machine for up to an hour at a time, totaling about 11 hours during the trial period. 
Training: I wore the Chargefeels for about 20 hours of training, including during low-impact weight lifting and sculpt classes on my favorite fitness apps, and more high-impact, cardio intensive workouts like dance and HIIT.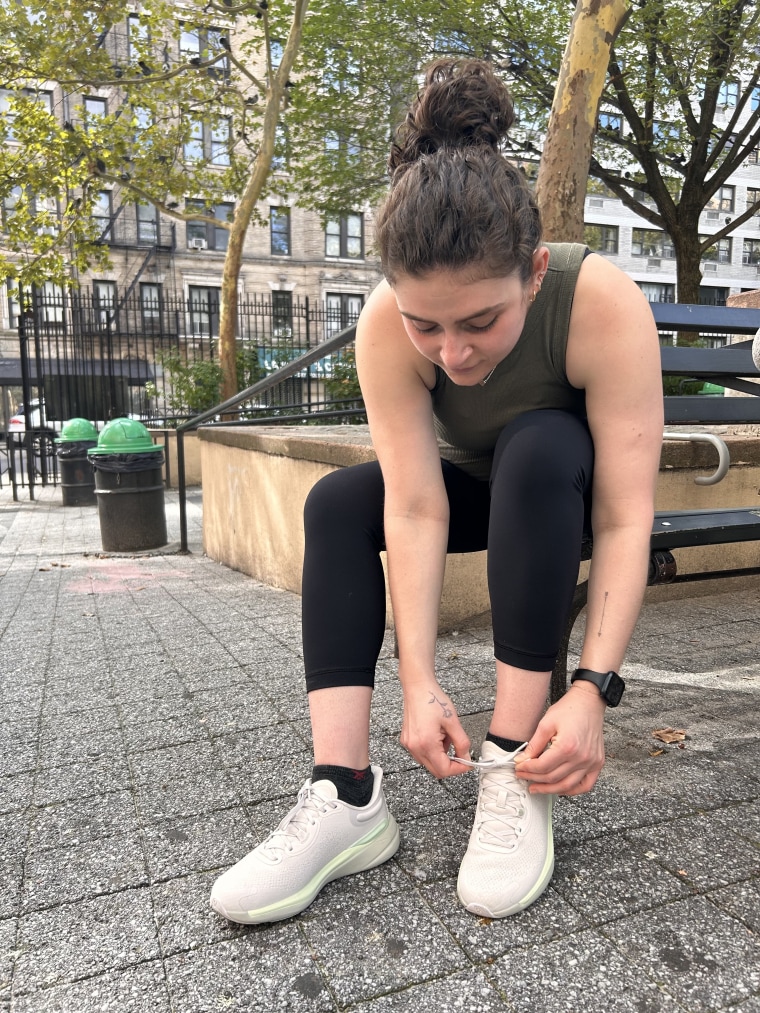 Lululemon Chargefeel sneakers: Pros and cons
Below are some of my main takeaways after trying Lululemon's Chargefeel sneaker.
Pro: Outruns the hybrid shoe competition
Lululemon's Chargefeel 2.0 is a happy medium between what I look for in a running shoe and a training shoe. It's cushioned and bouncy enough for me to feel the spring I need while running, and I appreciate the cushioning while doing burpees, jumping jacks and other cardio exercises in HIIT classes. And while the outsole has a slight curve to it, most of the shoe is flush with the ground so I can stabilize myself while lifting weights. 
At an impressive 9.1 ounces for the Low style and 9.3 ounces for the Mid style, both Chargefeel models are lighter than Lululemon's Blissfeel running sneakers and Strongfeel trainers. In other words, a Chargefeel in my hand feels lighter than a can of soda, but it's not flimsy, and keeps me anchored while lifting.
Lululemon is not the first brand to launch a running-training hybrid shoe. Reebok, for example, sells the Nano X3 shoe, which the brand sent me to try earlier this year. In my experience, other brands' hybrid shoes are too flat to run in, so I end up only using them as a training shoe. Lululemon avoided this issue by adding a little bit of cushioning and a slightly curved outsole, both of which I believe are key to making the shoe suitable to run in too.
Pro: True to size
I typically wear a 8.5 women's sneaker, which is the size Lululemon sent me, and it fits perfectly.  However, the brand recommends going half a size up if you have wider feet.
Pro: Durable
After six weeks of wearing the shoe almost daily, I haven't noticed much if any wear and tear. There's some mud stains from a rainy day and a scuff here or there, but overall, the stitching is intact, the laces are in great condition and the rubber elements are not degrading. Overall, I notice no difference in the shoe's performance. 
You can spot clean the shoes with a damp cloth or hand wash them in cold water, according to Lululemon, which I have not tried yet. But based on my experience running in the rain, the Chargefeels dried overnight and were ready for me to wear the next day.
Con: Not equipped for long runs
My legs felt strong while running in the Chargefeel sneakers for about four miles, but as I inched toward five, my shins started to get sore. I tend to get shin splints if I'm not wearing proper sneakers for distance runs, and the soreness I felt was a good indicator that four miles is the maximum distance I could go in these. For longer runs, I'd wear the Lululemon Blissfeel running sneaker, the Brooks Revel 6 (another Select Wellness Award Winner) or the On CloudSurfer instead. But for shorter runs, the Chargefeels are very comfortable, and it's nice to not have to change shoes if I'm going to cross train right after.
What's Lululemon's return policy?
A 30-day trial is included with all Lululemon shoes, which allows you to return a pair in any condition online or in-stores if you're not happy with it, according to the brand. Lightly worn shoes are resold on Lululemon's Like New resale store.
Why trust Select?
Zoe Malin is an associate updates editor at NBC Select who covers fitness, fitness apparel and fitness equipment including workout apps, sports bras and pilates rings. For this piece, she tried the Lululemon Chargefeel sneaker for six weeks after the brand sent her a pair. She wore the shoe while running and walking, as well as during workouts like weight lifting, HIIT classes and more. 
Catch up on Select's in-depth coverage of personal finance, tech and tools, wellness and more, and follow us on Facebook, Instagram, Twitter and TikTok to stay up to date.