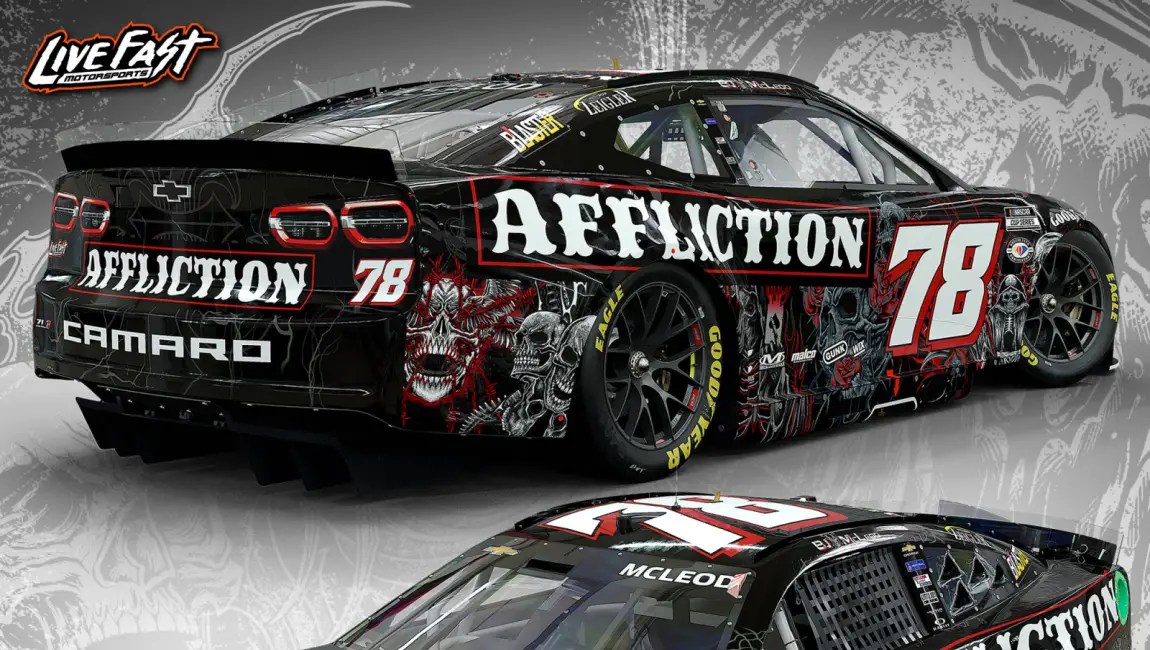 Could there be any more perfect sponsorship pairing than BJ McLeod and Affliction clothing? This weekend, in the Cook Out Southern 500 at Darlington Raceway, the driver of the No. 78 Live Fast Motorsports Chevrolet Camaro ZL1, who is usually decked out in chrome-skull-adorned Affliction T-shirts, will carry the brand on his race car.
The clothing brand, which underscores its commitment to pushing boundaries and embracing adrenaline-fueled experiences with this sponsorship, is excited to partner with McLeod, a longtime customer of the brand.
"Team Affliction is so excited to see B.J. tear up the track with an Affliction-designed car this weekend," the brand commented in a team press release. "The car features some of our most popular artwork and design elements. We believe this is the perfect representation of the LIVE FAST lifestyle that both B.J. and team Affliction live by every day."
It feels like McLeod is NASCAR's version of Bruce Wayne. The racer seemingly has endless Affliction shirts. While we've never seen behind-the-scenes footage of his closet, you would expect it to be like Batman's wardrobe at the Batcave, which is filled with Batsuits.
Picture it: As McLeod pulls the secret book on his bookshelf, which activates the hidden closet, you see his Affliction firesuit revealed in a glass case spinning under bright halogen lighting. Behind that, you just see a seemingly endless row of Affliction T-shirts.
DC Comics should honestly do a one-off comic series on McLeod.
The 39-year-old racer, who takes pride in his Affliction styling, is proud to carry the brand on the race track this weekend.
"Affliction has been a huge asset to my wardrobe for the past two decades," McLeod said. "As a proud member of Team Affliction, I look forward to showcasing my personal style on the track."
McLeod, who has 130 starts in the NASCAR Cup Series, has become a cult icon inside the world of NASCAR. In addition to driving and co-owning the No. 78 Live Fast Motorsports NASCAR Cup Series team, McLeod is also the team owner of the BJ McLeod Motorsports team in the NASCAR Xfinity Series.
Related