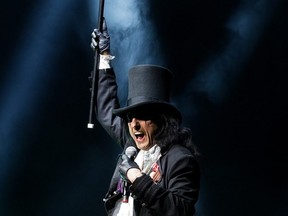 Reviews and recommendations are unbiased and products are independently selected. Postmedia may earn an affiliate commission from purchases made through links on this page.
Article content
Alice Cooper has been dropped by Vampyre Cosmetics after suggesting transgenderism could be a "fad".
Article content
The 75-year-old shock rocker insisted gender identity is "so confusing to a kid" and explained how he feels discussion around the sensitive issue has "gone to the point of absurdity".
Article content
He told Stereogum: "I'm understanding that there are cases of transgender, but I'm afraid that it's also a fad, and I'm afraid there's a lot of people claiming to be this just because they want to be that.
"I find it wrong when you've got a six-year-old kid who has no idea. He just wants to play, and you're confusing him telling him, 'Yeah, you're a boy, but you could be a girl if you want to be.'"
The 'Poison' hitmaker continued: "I think that's so confusing to a kid. It's even confusing to a teenager. You're still trying to find your identity, and yet here's this thing going on, saying, 'Yeah, but you can be anything you want. You can be a cat if you want to be.' "
Article content
The Hollywood Vampires star questioned who is "making the rules" and described it as this "whole woke thing".
He added: "I don't know one person that agrees with the woke thing. I don't know one person. Everybody I talk to says, 'Isn't it stupid?'
"And I'm going, well, I respect people. I respect people and who they are, but I'm not going to tell a seven-year-old boy, 'Go put a dress on because maybe you're a girl,' and he's going, 'No, I'm not. I'm a boy.'
RECOMMENDED VIDEO
"So I say let somebody at least become sexually aware of who they are before they start thinking about if they're a boy or a girl."
Alice – whose real name is Vincent Furnier – insisted it comes down to "genitals", and that there is a difference in language.
Article content
He explained: "There's a difference between 'I am a male who is a female, or I'm a female that's a male' and wanting to be a female. You were born a male. Okay, so that's a fact. You have these things here.
"Now, the difference is you want to be a female. Okay, that's something you can do later on if you want to. But you're not a male born a female."
And now, the goth make-up brand Alice inked a deal with just two weeks ago, has announced the contract is no more in light of his comments.
In a social media statement, the company said: "In light of recent statements by Alice Cooper we will no longer be doing a makeup collaboration.
"We stand with all members of the LGBTQIA+ community and believe everyone should have access to healthcare. All pre-order sales will be refunded."