Many brands have now released a trail super-shoe, one that borrows foam and other technical details from the best carbon plate road shoes and translates these for the trails. However, even the most innovative trail-running shoes have felt quite different to the experience of running in a road super-shoe.
That's because the premium foams, stiff plates and rods used to create propulsion in road shoes are not considered to be suitable for trails, where stability takes priority on uneven ground. For example, the Nike Ultrafly is a great trail shoe, but firmer, heavier, more stable and less exciting than the Nike Vaporfly road shoe.
I expected similar compromises would be made with the Adidas Terrex Agravic Speed Ultra, the brand's first attempt at a trail super-shoe, which launched at the Ultra Trail du Mont Blanc mountain running event in Chamonix this week. However, after just one run it's clear that Adidas aims to make the Agravic Speed Ultra feel as close as possible to a road super-shoe like the Adidas Adizero Adios Pro 3.
The Agravic Speed Ultra has a midsole made of Lightstrike Pro, the lightweight, bouncy and soft foam used in Adidas's top foam shoes. It also has the brand's EnergyRods in the midsole, with four prongs running under the forefoot and two under the heel. These are spread wide in the forefoot to create stability and to add propulsion in the same way as a plate without being as inflexible on uneven ground.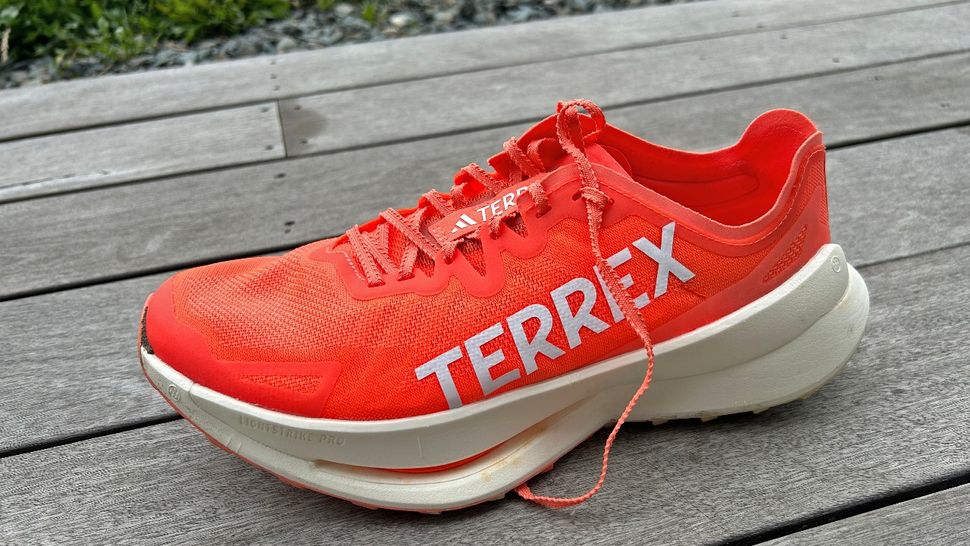 Perhaps the most obvious feature of the shoe is the pronounced rocker design. Adidas says this is to encourage forefoot running, and the shoe's stack height is actually highest at the midfoot in order to push you to land there and roll forward rapidly. 
The shoe is also much wider at the forefoot than it is at the heel, with a narrow pinch point in the midfoot too. The stability in the shoe is geared towards the forefoot, which is interesting for an ultramarathon racing shoe since runners will probably change their gait and footstrike a lot throughout the race, depending on factors such as fatigue, terrain and whether they're climbing or descending.
While the stack stats are not yet listed, the Agravic Speed Ultra is certainly a high-stack shoe, even if it's not quite as high as it looks because your foot sits within the midsole foam at the back like a bucket seat to add some stability. 
It weighs 9.7oz/274g in my UK size 9, which is a little heavier than the Adios Pro 3 or Prime X Strung road shoes, but still light for a trail shoe with a high stack like this. The upper is a woven material that is designed not to absorb water during any river crossings you might tackle, and it doesn't have much in the way of protective overlays, with just a small reinforced section on the toes.
The outsole is made from Continental rubber and has lugs ranging between 2.5mm and 3.5mm in length. It's a shoe that's primarily built for hard trails but did grip well when I encountered some muddy sections.
My first run was a 10K outing in Chamonix that started along undulating forest trails with rocks and roots underfoot, before hitting flatter trails and some roads in the second half. A bit of rain added to the slipperiness, so I did take the technical downhills carefully, but the shoe kept its excellent grip throughout.
The Agravic Speed Ultra is certainly the closest a trail shoe has come to capturing the magic of a road super-shoe. The rockered ride is very aggressive and bouncy, and when I hit faster, flatter trails I felt like I was booming along in them.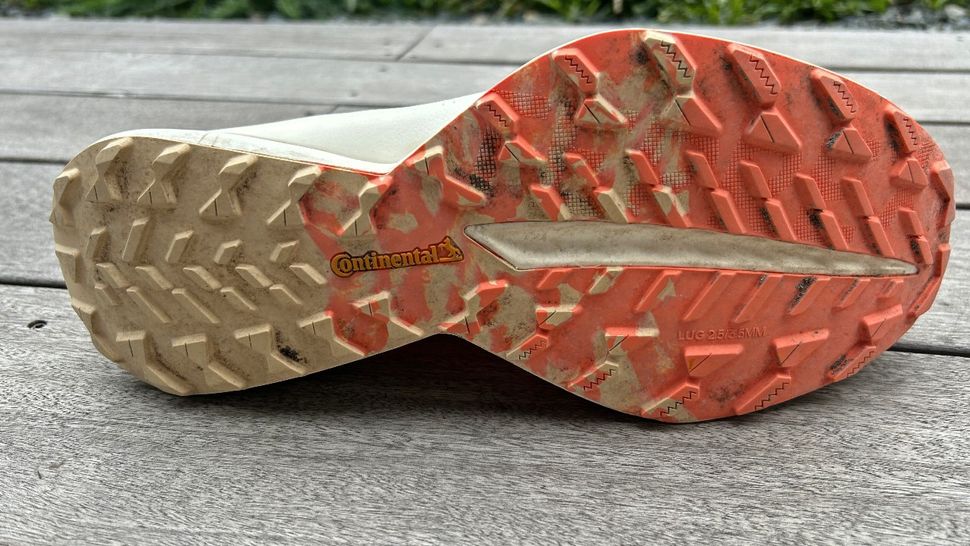 That said, I did find the rocker to be quite demanding, because you are encouraged to run in a certain way with this shoe. I am naturally a shuffling runner and heelstriker but the Agravic Speed Ultra pushes you into a more loping, midfoot style, because that's when the ride feels best.
It's similar to the way I feel when running in the Asics Metaspeed Sky+, which also encourages a more loping gait. I don't mind the feeling in either shoe, and have set PRs on the road in the Metaspeed Sky+, but my worry for long-distance events is that it might start to tire your muscles if that is not your natural running style. 
Also when your energy inevitably dips during an ultramarathon, the aggressive feel of the rocker might be unwelcome when you just want to shuffle home. I did hike some uphill sections of the run in the shoe, though, and it felt fine for that.
The other concern is stability. I am a neutral runner but could feel myself rolling inwards a little with each step, which also happens for me in soft, high-stack road super-shoes. This is OK on flat roads up to marathon distance but for ultramarathons on uneven trails, it's more of a concern. You have to pay a lot of attention to how you land in the Agravic Speed Ultra on rocky trails in particular.
I have a lot more testing to do, but so far I'd say the Adidas Terrex Agravic Speed Ultra is a shoe that will divide opinion. It's about as exciting as trail shoes get, with a fast, aggressive ride that's a close match to the feel of road super-shoes, but the trade-off is instability thanks to the soft midsole and pronounced rocker. 
The shoe will launch in Spring 2024 and costs $230/€230, with UK pricing TBC.